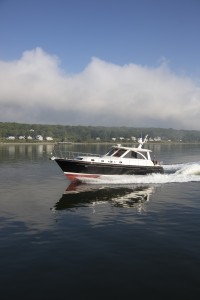 Hunt 44 Express Sedan Wins Newport Best New Products 2012 Powerboat of the Year

The Hunt 44 Express Sedan motoryacht was designated as the Best New Powerboat at mid-September's 2012 Newport International Boat Show in the "Newport for New Products" judging. Her display was also accorded the Best In-Water Powerboat Display in the "Edson Star of the Show Awards." No motoryacht has ever previously taken both awards. And, just a month later, the Hunt 44 was recognized at the world's largest powerboat show as the Best "Down East" Cruiser 35-45 Feet. The Hunt 44 Express Sedan was designed and engineered by Hunt Yachts, working through their parent company, C. Raymond Hunt Associates – a unique partnership in boatbuilding (no other builder is owned by a design firm); her construction exploits the meticulous craftsmanship available at Global Yacht Builders in Taiwan. Only Hunt can combine such depth of deep-V knowledge, experience and proven performance so richly evident in this series of powerboats which includes 52 and 68 foot models previously introduced and themselves winners of multiple awards. "Newport For New Products" spotlights each Fall, at the start of a new marine year, the new boats and equipment that make the most significant contributions to the recreational boating experience.
Judging is done by an independent panel of boating experts assembled by Bonnier Marine Group under the auspices of Cruising World, Sailing World and Yachting magazines. Awards are given based on innovation, value to consumers and aesthetics in several categories from which overall winners are chosen; the Hunt 44 was picked as Best Powerboat 30' And Over, then best powerboat overall. Active Interest Media, whose Marine Group publishes Power & Motoryacht, Passagemaker and Yachts Magazines as well as Soundings, Trade Only, Sail and Show Management, recognized with its Editor Choice Awards the "marine industry's best for 2012" selections during FLIBS in November. Once again, the Hunt 44 stood out as the Best Down East Style Motoryacht 35 to 45 Feet. Release continues on page 2 >>>> Hunt 44 Sweeps… News Release of 20 September 2012 Page 2, continues Hunt Yachts has always attracted rave reviews for exterior styling, and the Hunt 44 was described as "stunning" as well as "powerful and classically handsome." But it is the Hunt 44's interior and ability to deliver all the functionality of her 52-foot sister that pushed this design ahead of all the other exhibits. The accommodations, with two ensuite staterooms, are finished in a "modern Bristol" fashion with high-gloss teak furniture and detailing contrasted with white vertical surfaces. This novel solution, according to judges, "pushed all the right buttons … the interior is well executed – airy and full of light." Comments by show-goers well as the judges described the interior as "sparkling" and "spectacular." The displayed Hunt 44 was hull #3 in this series, each built to individual owner's personal requirements. Owners are given wide latitude in many aspects of detailing, including propulsion options ranging from diesel size to Zeus pods or waterjets in lieu of shafted propellers. Regardless of such customization, the judges noted on the Hunt 44 that "her overall look is solid, her hull design is solid, her interior is solid and her construction is solid." Insiders revealed that she was, hands down, the best powerboat in the judging and in the show.
Read More