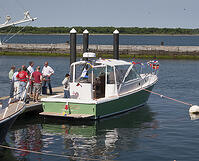 Carl and Alicia Furman christened their new Harrier 36 Zogo today on the docks of Hunt headquarters in Rhode Island. Painted a beautiful "aurora borealis" green with a gold leaf boot stripe, Zogo will turn heads at her new home in Maine.
The Furmans chose Hunt because of the semi-custom nature of our builds. The interior is designed just the way they wanted it, and they couldn't be happier. The on-deck amenities will augment all the ways they'll use the boat, from day trips to overnight jaunts. And the jet propulsion will give them peace of mind when navigating the many lobster pots found in their home waters.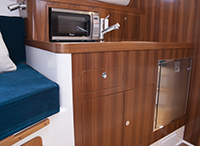 With a canvas top that opens to the sun or zips up against the Maine chill, they will always be comfortable aboard. We look forward to hearing about their adventures with Zogo.